Report by Kamgar Ekta Committee (KEC) correspondent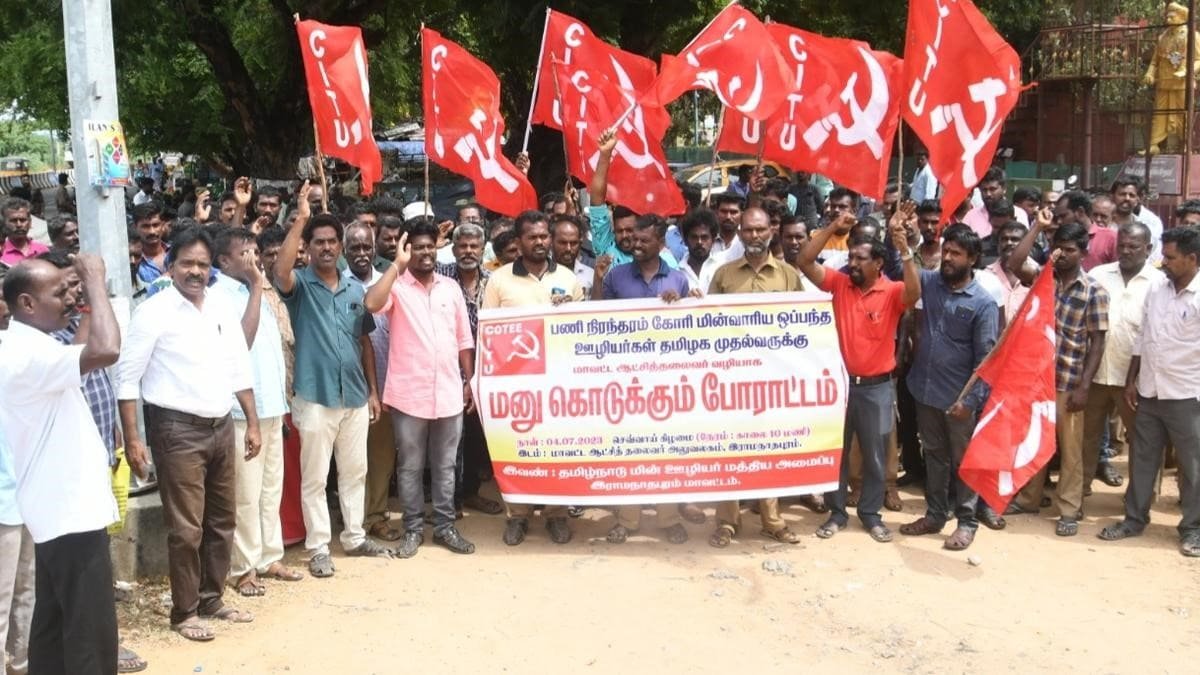 On Tuesday 4th July 2023, a large number of contract workers working in the Tamil Nadu Electricity Board staged a demonstration in front of the Ramanathapuram Collectorate demanding regularisation of their services. The protest was led by members of the Central Organisation of Tamil Nadu Electricity Employees, affiliated to CITU.
Over 200 of these employees have been working for TNEB under contract for the last 10 years. Initially, they were paid as per work assigned to them, for example setting up electricity poles, installing transformers, etc. Later, they were made to provide assistance to wiremen and were paid very small amounts for it.
These workers were recruited in departments responsible for power generation, transmission, maintenance and distribution. They have been doing work of permanent nature. But they have not receive even their promised daily wages! During natural calamities like cyclone Vardah, Ochchi, it is these workers who along with permanent workers worked day and night, sometimes risking their lives to restore electricity to various areas of Tamil Nadu.
TNEB contract workers have been fighting for their rights and for permanent employee status since many years. During the last assembly elections of Tamil Nadu, DMK, which is the current ruling party, had promised them that they would be absorbed as permanent workers of TNEB. Workers are now demanding that DMK should fulfil its promise!
All over the country, lakhs of workers working as contract workers in all sectors of economy have been raising the demand of "permanency," which will give them some semblance of stability in life. But their capitalist class, and under their diktat various political parties at the helm of affairs at the Centre or in states, have instead pushed for increasing contractualization, meaning increased instability and uncertainty for the working people.
This is hence a very important struggle for the working class as a whole!