We have to expand the struggle beyond the corridors of banking unions alone and there AIFAP is going to be very useful and helpful to us in taking the message of our struggle to more sections of people, because beneficiaries have to be mobilised, people have to be mobilised, the savers of money in the bank have to be mobilised.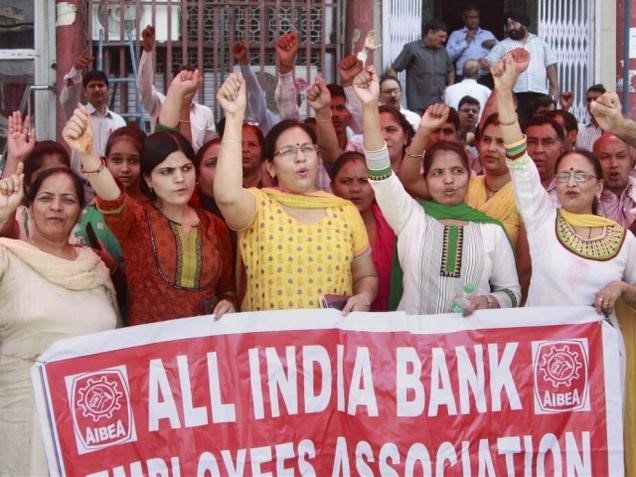 Transcript of the speech given by Shri C.H. Venkatachalam General Secretary of All India Bank Employees Association (AIBEA) at the AIFAP meeting – Unite Against Privatisation – "Current Ongoing National Struggles to Oppose the Privatisation of Banks, Insurance and Coal Mines" held on 19th December 2021
Good evening, friends and comrades and co-fighters. First of all, thanks to Comrade Mathew of the AIFAP for arranging this program and giving us the opportunity to speak out on the struggle. Thank you very much. I believe this will help us to build and sensitize the public opinion on the issues that we are struggling.
First of all, I am happy that there is an encouraging scenario just now due to the struggle of the farmers where the government has been forced to push back. This is great news for us and I would like to begin my small observations by paying homage to the more than 700 framers who lost their lives, who sacrificed their lives for the cause of the struggle. I am sure that the sacrifice will be remembered by the workers very gratefully for one.
I don't think I need more time to speak on this issue, because this issue is known by now to most of the people – why banks unions are fighting against the government's attempts to privatise the banks. Of course, banks are very important. Any privatisation is unwarranted, and naturally bank privatisation has more implications because we deal with people's money.
As of now, all of us know that our country's GDP is around three trillion dollars, and we have in the banks about 75% equivalent of that as deposits of the people in the banks. 157 lakh crore rupees is the deposit of the people in the banks. It is huge money and this money is 90% of the money domestic savings. It is not money of the Reserve Bank, it is not money of the government, and it is not money of the corporates like Ambani or Adani. They don't keep money in banks. So, the bulk of it is the savings of the people – the labour class or the working class, the middle class, the retired people. That is very important social capital in a developing country like India. So, banks now should be taken care, if we have to take care of this huge social capital available to the banks.
Number two is that India is still a developing country. There are many areas that are backward. And recently we had this World Report on multi-dimensional poverty, where shamefully about 25% of our population, our brothers and sisters according to the Report, are suffering from multi-dimensional poverty. That is the state of the economy. So automatically we must understand that banks have a very important role to play, in the economy, going forward in the economic development, etc.
The government is also talking of five trillion dollar economy. It's okay. But how do we do that? By privatising? I don't think so. It has to be only by strengthening the public sector banks. That is because banks are the nerve centre or the backbone of the economy in a developing scenario. And especially in India, where the banks deal with huge public money. We have to do it in a way that it subserves the objectives of our national goals and aims and development, etc.
I only say that number one is the past we have experienced, the present challenges and how it will emerge. These are the three things that we need to understand.
The past in banking was very bitter. I am talking pre-independence where in huge number the private banks collapsed. In about fifty years, more than 2000 private banks collapsed – it is unimaginable today. More than 2000 private banks collapsed. With the collapse of a bank, people lose their money. According to a Reserve Bank Report, all these failures were on account of mismanagement by the owners of these banks – irregularities, frauds, mismanagement, etc. So, that is one thing. And today we cannot afford to have that scenario of bank failures because there is huge money of people in banks. So number one is safety of people's money. So, while public sector banks are the protectors, they are the saviours of the money of the people. So that way we need people's money to be safeguarded by the public sector banks. So privatisation is no good.
Second is development. There are a number of sectors that even now need a push – what we call priority sector – agriculture sector, employment generation, poverty reduction, rural development, women empowerment, then education, then health, infrastructure – you name it! And they need financial support. And that is only by public sector banks. Even today we have some private banks. In a mixed economy like India, private sector will be there. But what has been their contribution? Not earlier, but even today. So going forward, for the economic development of the of the country we need very strong, vibrant public sector banks. So that is for the development of the economy.
Today what are the challenges? We find that all banks are doing well. The government may be saying that public sector banks are not efficient, private banks are good, like that. But all of us know that that is not the real story. All the public sector banks are well, they are adequately capitalised, and they have nearly a lakh of branches to serve the people. And we serve a huge community of people and we keep their deposits, keep them safe, lending them and we are earning profit. All the banks are earning profit. There is a problem of provision from the total operating profit we earn. The bulk of the money is diverted to the provision of bad loans. So there is a slide in net profit. Not loss, but substantial money is going to the provisioning of bad loans.
For example, in the Financial Year 2021 the public sector banks' total operating profit was Rs. 1,97,000 crores. Historic profit. It has never happened in the last hundred years – banks earning so much of profit. Huge profit. But the amount of net profit that was announced in the balance sheet was hardly about Rs. 30,000 crores. Because out of the operating profit that the banks made, about Rs. 1,45,000 crore was provided for bad loans. So this is the problem that we are facing. Why banks have to provide such huge money for bad loans? Because bad loans are piling up. Bulging bad loans. Now euphemistically they call it Non-Performing Assets. But I don't know how it is an asset except that in the balance sheet it is coming on the Assets side. Actually, it is liability, money does not come.
We have to understand that some loans will go bad. Today we talk so much about bad loans and NPAs, but a hundred years back also they existed; sometimes banks have given money that has not come back. But today, when we discuss this issue we must also correlate this problem with policy changes that took place in 1990-91, when the government embarked upon the path of liberalisation, privatisation, globalisation. So the banking liberalisation also has its own impact on what is happening today. Prior to 1990 banks were there and there were bad loans. But today in a systematic way creating bad loans has become an acquisitive art. Some people are doing research to find that bad loans are going up like anything. I have some figures just to refresh your idea. In 2004 when the UPA-1 came, the total NPA was only Rs. 54,000 crores. With UPA-2 in 2009, it fell down to Rs. 45,000 crores. But in 2014 NDA-1 came and it shot up to Rs. 2,14,000 crores and with NDA-2 in 2019, it is Rs. 7,39,541 crores and today it is Rs. 6.16 lakh crores. So the NPAs have gone up in the recent years, and that is because of liberalisation. You know, the moment you liberalise the banking regulations and the lending policy, etc. naturally people are finding the loopholes and looting the banks. So how to recover the money? How to strengthen the recovery of the bank loan, that is the issue.
Privatisation is not an issue at all. And another point which we must keep in mind when there are advocates of privatisation – what is the track record of private sector in our country, particularly of private sector banks?
Prior to 1960 so many banks have collapsed. Here one more thing incidentally. Just three days ago, PM Modi spoke that we have increased the deposit insurance to Rs. five lakhs. We are friend of the people, so we are increasing the limit to five lakhs, he said. It's really very unfortunate that the PM is speaking like this. For one, he has to say that I am there. I am the watchman for your bank money. So don't worry, banks will not fail. But instead, he says that banks may fail, and I will give you RS. five lakhs per head. So, this is number one, which was not a proper statement.
But anyway, he is the PM and has made that statement. But there also we would like to inform all of you that in 1960-61, at that time the AIBEA General Secretary Com Prabhakar was also a member of parliament from West Bengal, he took up the matter that so many banks are collapsing particularly in Kerala, West Bengal, etc. and so a Commission was instituted and they found irregularities in banks. So just to meet that need, deposit insurance came. But simultaneously Com Prabhakar also took up the issue in the parliament, supported by many MPs at that time. They said that you must find a mechanism to deal with this problem. That deposit insurance is okay but there must be a mechanism. So a specific amendment to the RBI Act Section 45 in 1961 was made. Earlier to 1961, if a bank did not do well due to fraud or mismanagement, and the bank was in difficulty, it was liquidated. People lost their money. There was a vital change in the law. RBI Act Section 45 was amended to empower the Reserve Bank to interfere in the matter; instead of liquidation, put the bank in moratorium and hand over the bank, merge it with another bank. So since 1961-62 you will find that not a single commercial bank in India has collapsed, including private banks. So after 1961-62 when there is a provision of merger of a failing bank, there is no need to insure at all! Section 45 is not applicable to cooperative banks. So now they are facing the problem in the Punjab – Maharashtra cooperative banks. They are not governed by this Reserve Bank Act. So there you may have to increase to one lakh, five lakh, whatever it be. It is not applicable to commercial banks. But unfortunately the PM made an open statement, a general statement that banks may fail but I will give you five lakhs rupees.
It is not possible, under any existing law, that a commercial bank can fail. It may face problem but it will be put on moratorium. As you can see Yes Bank was in difficulty but now money has been pumped in. Lakshmi Vilas Bank was a private bank. It has now been given to Singapore Bank. So we have to understand that no bank can fail in India, commercial bank. And all the more public sector bank. All public sector banks are doing well. Number one.
Number two. Ninety seven percent of the NPAs are attributable to the private sector. Ninety seven percent! If private sector is so efficient, then why loan given to private sector, why they have not been utilised properly? Why have they not made profit? Why have they not returned the money? So these are all bunkum.
So now they have improvised another one, Insolvency and Bankruptcy Code where the defaulting borrower case is referred to a National Company Law Tribunal, NCLT. And now things are happening. A new thing is happening. The Tribunal is auctioning the bad loan and somebody is buying, ultimately at a discount. Earlier it used to be 20% – 30% discount. Now it has gone up to 95%.
Videocon had Rs. 46,000 crores of loan. It was referred to the Tribunal. Now it has been settled for Rs. 2,900 crores. Ninety four percent compromise.
Then we have the Alok Textiles. It also had about Rs. 25,000-30,000 crores of loan. Alok Textiles did not return the money. So it went to the Insolvency and Bankruptcy Court. Reliance came in and said I will give you Rs, 5,000 crores. Out of thirty thousand crores they said we will give you five thousand crores! In fact the lenders, the bankers did not agree. There was a provision initially in the IBC that lenders have to vote for a particular bid / proposal to sell. 75% of the people have to vote in favour and then only the proposal will be through. But in the case of Reliance and Alok Textiles, only 66% voted in favour. The next day the Modi Government reduced the threshold from 75% to 66%, and so the proposal has gone through!
So, this way there is an open loot in the name of IBC. Recovery is not taking place. On the other hand, they are going on looting the banks' money. Because of that, banks have to provide (for written off loans). Bulk of the money is going to the provisioning of bad loans. So banks are earning profit, but it is getting siphoned off, diverted, and adjusted for bad loans! So that way, privatisation is again giving banks only to those people who can afford to buy a bank. All banks are huge banks. If the banks are sold, then same thing will happen. We have the example of the United Western Bank in Maharashtra. Two brothers took a loan of a hundred crores and they did not pay. It became an NPA. So when the bank wanted capital, these people gave the capital. They purchased the shares and became Directors. They again misused and ultimately the bank was taken over by IDBI Bank.
So, this is the danger we find. Bank privatisation will implicate the whole country and the people's money. That is why we are fighting. There is another impression, that today this government (only is privatising). This is an offshoot of the liberalisation policy. Right from 1991 so many committees (have recommended privatisation). In 1991 Narsimhan Committee 1 came. It recommended privatisation. In 1997, Narsimhan Committee 2 recommended privatisation. In 1999 Verma Committee came. That recommended privatisation. In 1999 K V Kamath Committee came. They said that three banks have to be closed and then we have to go for privatisation. In 2000 the Vajpayee Government was there for 13 months. It brought a Bill in the Parliament for reducing the government's capital in banks to 33% and allowing 67% private capital. That means privatisation. United Forum of Bank Union went on strike on the 15th of September 2000. All the employees and officers and all the political parties supported and ultimately the government fell and the Bill also lapsed. That was in 2000.
Then after that in 2006 Tarapore Committee recommended privatisation, more opening up and liberalisation. In 2007 Raghuram Rajan Committee, in 2008 Anrul Hoda Committee, in 2013 Reserve Bank Task Force Committee, in 2014 Nachiket More Committee, again in 2014 P J Nayak Committee. Again they all wanted more reforms. Then in 2015 Gyan Sangam was held. Modi himself came and gave a magic formula to reform the banks. And in 2017 we got the FRDI Bill. Now they have decided to bring a Bill to privatise banks. I don't know, there are 3-4 days in the present session. They have listed Banking Laws Amendment Bill to privatise the banks in the agenda.
So there is a continuous attack on the banks, targeted attacks on the savings of the people. This is the danger of privatisation – not only of somebody becoming the owner, they become the owner of public money. Today the total capital of all the government banks put together is about 4 billion dollars. It is about thirty thousand crores rupees or so. But, we are dealing with people's money. In government banks alone it is about one lakh crore rupees. So with just thirty thousand crore rupees capital you get huge public money. This is the special danger of privatising banks or insurance companies. They deal with huge public money.
So, naturally it cannot be seen just as an attack on the banking industry and it is only for the bank employees to fight. No doubt people fight and especially in AIBEA we are very proud that we fought for nationalisation. We achieved nationalisation, we worked for the success of public sector banks. Today we are particularly very proud that United Forum of Bank Unions is fighting; it is not simply the Class 4 employees, not simply the clerical employees. Today in United Forum we have employees, officers, Senior Officers, Branch Managers – all of them are there. So I am so proud of the United Forum of Bank Unions. Especially the contribution of the bank officers' trade union. I want to record it because it's not a joke.
We went on strike two days ago. According to the government information, it is up to about 80% to 85% participation. In banks 80% to 85% is 100%. Because we expect some Senior Executives, security people. So 100% people including officers, managers have gone on strike. Many branches were shut down. It is a unique struggle going on in the banks, thanks to the strong unity among the bank employees and officers on part of the United Forum. We shall do that. If the government persists with privatisation, we will again fight. But I think that we have to expand the struggle beyond the corridors of banking unions alone and there AIFAP is going to be very useful and helpful to us in taking the message of our struggle to more sections of people, because beneficiaries have to be mobilised, people have to be mobilised, the savers of money in the bank have to be mobilised. The country's economy is at stake. All these things. We shall do our job, but I appeal for the support of all of you.
I am very thankful to AIFAP, Com Mathew and all the people who are there. Very vocal support to our struggle, in this strike, etc. But we will like to further work together and expand this area of coordinated functioning and I can also assure that while I ask for support of all of you, we commit to support, actively support including participation in strike, etc. in any sector, public sector. We are talking of coal, we are talking of electricity, transport, insurance, etc. We will be very happy to also associate bank employees in the struggle. We have already given 23-24 February strike call. That way the future is going to be more challenging for the workers because the policies of the dispensation at the centre, it is very clear. It is moving to the right. Obviously, there will be attacks on the workers, trade unions, which are very visible now. So, when they try to consolidate their attacks, we have to consolidate and fight. I thank you for your cooperation and I thank you for the opportunity. Thank you.