Report received from Com. J. Ayodyha Ram, President, Steel Plant Employees Union (CITU), RINL, Vishakhapatanam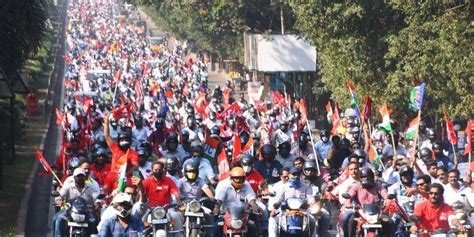 Vizag Steel stood as an example against Privatisation movement in recent times. More than 10,000 employees, 13,000 contract workers are on warpath against strategic sale, announced by the Modi government on 27th January 2021. Series of agitations, hunger strikes, rasta rokos, Andhra state bandh, etc. were organised by the "Visakha Ukku Parirakshana Porata Committee". All the unions from left to right are the participants in this committee. All the political parties except BJP are opposing this privatisation move in Andhra Pradesh. As the agitation is nearing completion of one year on 12th February 2022, the Committee decided to hold a big hunger fast with 365 employees and on 13th February, it was decided to organise a 'Jail Bharo' programme involving thousands of workers.
The preparation for this programme is in full swing. Round table meetings were organised in all Rehabitation colonies. One crore signature campaign has been taken up in entire state. Jail Bharo programme will be starting from Kurmannapaleru.
The entire people in the state have resolved to protect Vizag Steel from privatisation clutches. Vizag Steel is witnessing biggest ever agitation against privatisation. This will be an inspiring agitation among all PSUs. Uniting all the public sector, LIC, defence, banks, etc. employees against government policies is our target.
"We shall fight, We will win."