Based on the report received from Shri Gopal Dutt Joshi, General Secretary, UT Powermen's Union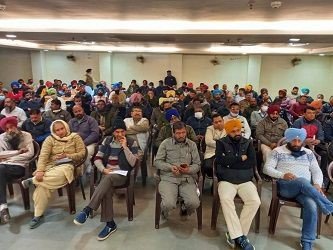 UT Powermen's Union organised a convention on 7 February at the Public Convention Centre, Chandigarh against the central government's decision to hand over the power department to a private company. Resident Welfare Associations, trade unions, political parties as well as farmers' organisations participated in this convention. The resolution, passed at the Convention, unanimously condemned the sale of the electricity department to private players although the department has been making profits of crores every year and providing cheap and uninterrupted electricity to consumers despite acute shortage of staff.
It was also decided that a mass civil dharna against electricity privatisation would be held on 15 February from Sector 17 Shivalik Hotel to Stay Park. After this, a joint delegation of political parties, farmer groups, resident welfare association, trade unions and councillors will submit a memorandum to the UT Chandigarh administrator.
UT Powermen's Union will go door to door to distribute pamphlets on the effects of privatisation on the public. Memorandums will be given to the parliament, mayor, counsellor and leaders of all political parties.
At this convention on electricity privatisation, it was also decided to hold more meetings with consumers to give information about the impact of privatisation of all other sectors.
UT Powermen's Union has already decided to go on a 3-day strike from 11 pm on 21 February against the sale of the Chandigarh Electricity Department to a private company for merely pennies. In the convention, it was decided to strongly support the strike of electricity workers starting on 21 February. Due to the convention, workers' unions, public representatives, trade unions and opposition parties have been mobilised against the privatisation of the electricity department.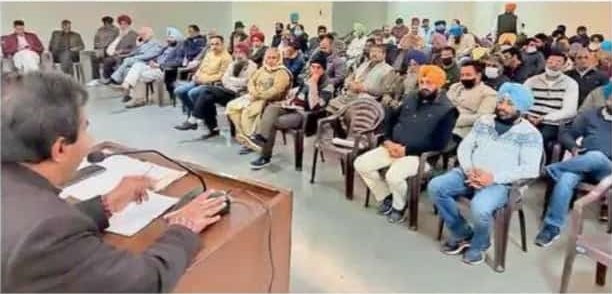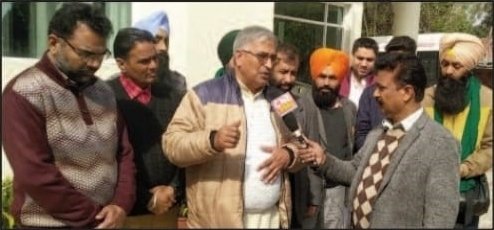 National Vice President of Electricity Employees Federation of India and Chairman of All India State Government Employees Federation Shri Subhash Lamba and General Secretary of UT Powermen's Union Chandigarh Shri Gopal Dutt Joshi presented a paper on the topic "Why a profitable electricity department that supplies cheap and uninterrupted electricity is being privatised." He said that we do not know why the Government of India and Chandigarh Administration are intent on selling our electricity department, which is a department that has the cheapest rates in the country and provides 24-hour uninterrupted electricity and has still made a profit of Rs. 150–300 crores, to a company in Kolkata that charges the highest rates.
He said that when the Chandigarh Electricity Department was formed, there were close to 1 lakh 10 thousand connections and 2200 employees. Today, there are about 2.50 lakh connections and 1000 employees, of which about 400 are contract workers. He said that Chandigarh has 14 sub-stations of 66 KV and 5 sub-stations of 33 KV and about 2500 distribution transfers. Despite the number of employees being so less, 24 hours uninterrupted electricity is being provided by workers working night and day. Chandigarh has 100% metering supply.
The line losses are far below the central government standard of 15% and less than 10%. The department has received awards for good service. Electricity rates have not been increased since last 5 years, but this year the rates have been reduced and the rate of electricity up to 150 units is Rs 2.50 and maximum is Rs 4.50. But the rate of Eminent Company (to which the government is selling our department) up to 150 units is Rs 7.16 and beyond 300 units is Rs 8.92.
He said that on the instructions of the central government, the Electricity Department is being sold illegally in disregard of the Electricity Act, 2003, that too to the most expensive private company.
Assets made with public money and estimated to be worth Rs. 20,000–25,000 crore made are being sold for only Rs. 871 crores. Before selling, the price of machinery, building and land was not audited. Land and buildings are being given on rent to the government and administration at Re. 1 per month to private companies.
Assets worth hundreds of billions are being looted by private houses for mere pennies. It is our right and duty to protect them. He said that due to this step of the government and administration, the burden of electricity would be manifold on the people and electricity would be out of reach of the poor people.
It should also be noted that before taking such a big anti-people decision, the administration did not consider it appropriate to take necessary suggestions and objections from the main stakeholders, especially the employees and consumers.
Shri Subhash Lamba warned that if the Chandigarh Administration took the path of repression to quell the strike instead of withdrawing the decision of privatisation, then the workers of the country would be forced to take to the streets.
He demanded from the Central Government and UT Chandigarh Administration to withdraw the decision of privatisation of electricity, taking lessons from Jammu and Kashmir and Puducherry.
Congress President Subhash Chawla, Aam Aadmi Party President Prem Garg and Senior Vice President Vikram Dhawan, CPI Secretary Rajkumar, CPIM leader Mohammad Shahnaz Gorshi, RMPI leader Inderjit Singh Garewal, Akali Dal President and Councillor Harpreet Singh, Congress Councillor Gurbaksh Kaur Rawat, Aam Aadmi Party Councillor Damanpreet Singh, FOSWAC Chairman Baljinder Singh Bittu, General Secretary GS Gogia, Pradeep Chopra, Pindu Sangharsh Committee President Daljit Singh Palsoura, Saranjit Singh, Joga Singh, Samuha Gurdwara Committee Secretary General Raghubir Singh Rampur, Resident Welfare Association's Satish Kumar Khosla, MR Bhatia, Smt. Mahindra Kaur, Kisan Ekta Manch's Satnam Singh Tanda, Shastri Market Sector 22 President Jaswinder Singh Nagpal, Pensioner's Association's Ram Sarup, Federation President Raghbir Chand, Rajinder Katoch, Harkesh Chand, Chandigarh SS Federation's Ranjit Mishra, electricity workers leader Amrik Singh, Sukhwinder Singh, Gurmeet Singh, Ranjit Singh and Paan Singh participated in the convention.