Report received from Com. A Venu Madhav, AITUC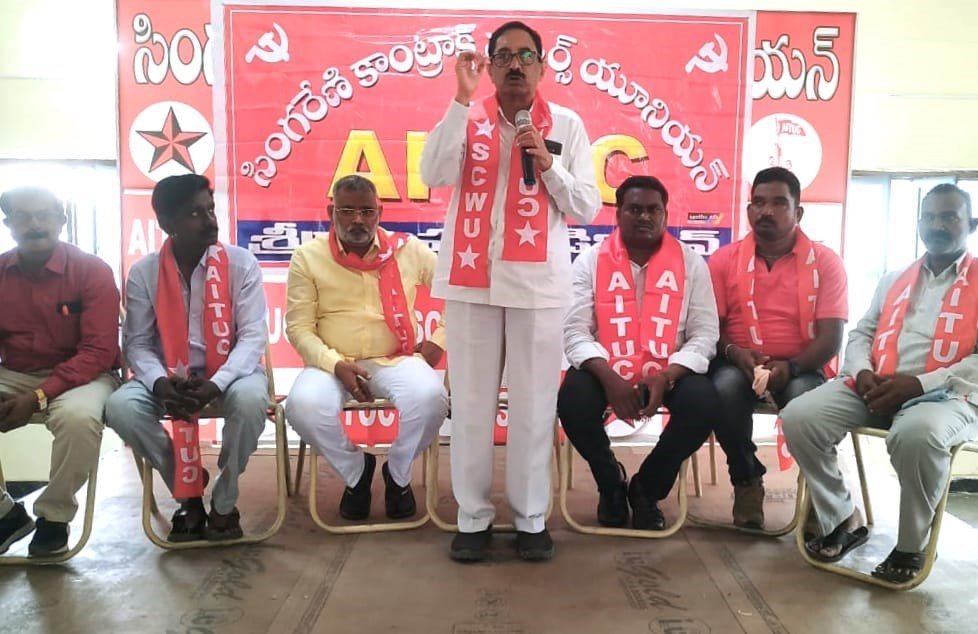 Srirampur Area Contract Workers Union General Body Meeting was held at Narsayya Bhavan, Srirampur Mancheriyal under the chairmanship of Contract Workers Union Central Secretary Mekala Das. Singareni Collieries Workers Union General Secretary Vasireddy Sitaramaiah addressed the meeting. He told the Singareni contract workers were to be paid as per the High Power Committee, but the Singareni management was not a member of the High Power Committee and would bypass the increase in wages. We demand the Singareni management to give equal pay for equal work in line with the Supreme Court judgment. CMPF should be cut only for all Singareni contract workers. CMPF slips should be given every year. Roof bolting workers, working in underground mines, should be given high skilled wages. The Singareni management should take full responsibility for any accident to the contract workers and better treatment should be done in the corporate hospital. The insurance of Rs. 60 lakh should be applied through banks for contract workers. All contract workers should be provided OP and IP services in Singareni Hospitals. We demand that Singareni take full social security in the workplaces of contract workers.
In this program Com. Kalaveni Shankar, CPI state executive member, Branch Secretary Kotte Kishan Rao, AITUC Zonal Secretary Doddipatla Ravinder, Com, Prabhakar, contract workers union leader, Dilip Kumar, Shiva, Sandeep, T Ravi, E Shankar, Sammayya, Venkatesh, Satyanarayana, Swapna, Lakshmi, Sharda participated.