by Sanjeewani Jain, Vice President, Lok Raj Sangathan
This is the second in series of articles about spurious justifications given to justify privatisation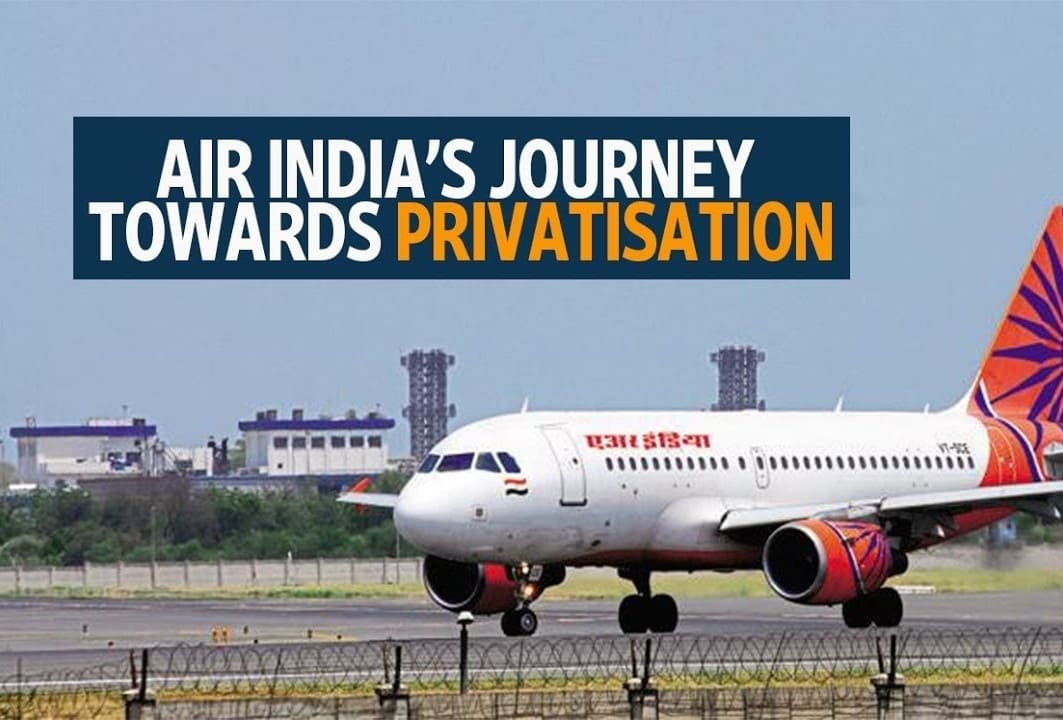 The study of the various steps taken over the last thirty years towards the privatisation of Air India shows how a very successful and profitable airline was turned into a loss-making enterprise to benefit private players from time to time. Its growing losses were then used to justify the privatisation of Air India at any cost.
Hundred percent of the shares owned by the Government of India in Air India, and its subsidiary AI Express, as well as half of the government's shares in Air India SATS Airport Services Private Ltd. were sold to the Tata Group for as little as Rs. 18,000 crore (about US$ 2.2 billion) in Nov 2021. Out of this, Rs. 15,300 crores are towards clearing the outstanding loans of Air India, which are about Rs. 60,000 crores. The rest of the loan will be cleared by the Government of India. This means that Indian people at large will pay the rest of the amount.
Public money invested in Air India as shareholding of the government was Rs. 32,665 crores. Air India had total loan of Rs. 91,116 crores. So total money put in Air India by way of shareholding and debt was Rs 1,23,781 crore. Tata group's payment of Rs 18,000 crore would mean that the government, that is to the people of India, would bear the balance amount of Rs1,05,781 crore!
What the Tatas have acquired for this price
94 aircrafts and serve over 100 domestic destinations and 60 international destinations
The Tata group also gets Landing and Parking slots – 4,400 domestic and 1,800 international slots at domestic airports, and 900 slots at overseas airports. These are very valuable as no new landing and parking slots are available at busy airports. Busy international airports the world over have no new landing and parking slots due to which a new airline cannot fly to such airports. Getting access to these slots immediately extends the market share of the Tatas, both in India and on the global scale.
The Tatas have now got 2500 trained and licensed pilots without spending a paisa. The training of each pilot costs lakhs of rupees.
How the Government turned AI into a loss-making enterprise.
The policy of globalisation through privatisation and liberalisation was launched in 1991 at the instance of Indian and foreign monopolies. The Civil Aviation sector was decontrolled in 1991 and private air taxi and charter services were allowed.
In 1994 the Air Corporation Act was repealed in order to allow private airlines to provide regular services. Thus, the process of encouraging the private sector at the cost of Air India (AI) and (IAC) began and finally culminated with the sale of AI. This process was carried on by various governments that came to power in these thirty years.
In 2005, Indian Airlines was made to order 43 new aircrafts, much above its requirement.
In the following year, a huge loan of Rs. 50,000 crore was arranged to finance Air India's purchase of 68 aircrafts, when the actual requirement was only for 28 aircrafts. The annual interest and principal repayment of these loans turned both the profitable airlines into loss-making companies.
They were forced to buy only Boeing aircraft and they were of poor quality. Initially they had many problems. The wind shields of Boeing 787 crack even now.
These unnecessary purchases turned both the profit-making airlines into loss-making ones. The merger was a signal given by the government to the world that now we have a huge company that can be sold.
Despite strong opposition of workers of both airlines, Air India, serving the international market, and Indian Airlines, mainly serving the domestic market, with completely different type of aircrafts, market, and culture were merged. This crippled both the airlines.
In 2004-2005, the most lucrative international routes and slots of Air India — particularly the Gulf routes — were given to private and foreign airlines.
The financial performance of the airline worsened when the government forced the merger of Air India and Indian Airlines in 2006, in spite of the united opposition of all the workers employed. Indian Airlines was a market leader at the time, with 42 percent share of the domestic market for air travel. The merger was meant to weaken the public company, for the benefit of the private airline companies.
Profitable routes were sold bit by bit. Indian Airlines used to get 40 percent of its revenues from the Gulf routes. This was reduced to 10 percent.
Air India has its own aircraft servicing facilities. The cost of servicing a plane internally is Rs. 15 crores, but they have been outsourcing it for Rs. 30 crore per plane. Air India was forced to service their planes outside even though it has the best engine maintenance and check shops in the world.
Delhi airport has three terminals. In 2010 the government decided that all airlines will shift to terminal 3. The workers requested them to give the well-functioning terminal 2 to Air India. But that was refused. Hence AI had to pay Rs. 70,000 per month as parking charges instead of Rs. 700 simply because GMR (the private company owning Delhi airport) had to be favoured.
Centaur Hotel of Air India was sold off for a pittance. Within a few months the buyer sold it for a tremendous profit.
The price people will have to pay over and above the loot of public assets:
With the privatisation of Air India and the consequent complete withdrawal of the state from civil aviation, air fares will be set solely with the aim of private profit maximisation.
Social objectives such as ensuring connectivity to remote areas will not even be considered. Air India used to operate 80% loss making routes. If our citizens had to be evacuated from anywhere in the world Air India would do it. No private airline ever does this.
Those places where flights are not usually full will experience a steeper rise in air ticket prices. Private airlines have already been accused of forming cartels and engaging in monopoly pricing. In 2018, IndiGo, Jet Airways and SpiceJet all were fined by the Competition Commission of India for forming a cartel to hike up the fuel surcharge rate.
Workers will face greater job insecurity. Air passengers will face higher prices.