Report by the Correspondent of the Kamgar Ekta Committee (KEC)
Over 1,900 dock workers at UK's busiest port at Felixstowe went on an 8-day strike starting on 21st August, 2022 to demand a fair pay rise. After having negotiations for months with the Felixstowe Dock and Railway company, the workers were offered a pay rise of just 7%, which is much below the current inflation rate of 12.8% (as of July this year). The previous year workers received a wage increase of just 1.4%. Therefore, after the latest rise was announced, the workers decided to go on an eight-day continuous strike.
The workers are organized under their union called the 'Unite'. It is the first time in 30 years that dock workers in UK have gone on strike. Striking workers include crane drivers, machine operators and stevedores, who load and unload ships.
They realize the power that they hold together as workers of one of the busiest container ports in the UK. The Port of Felixstowe receives about 48% of all shipping containers that enter the country. It handles 4 million containers a year from 2,000 ships.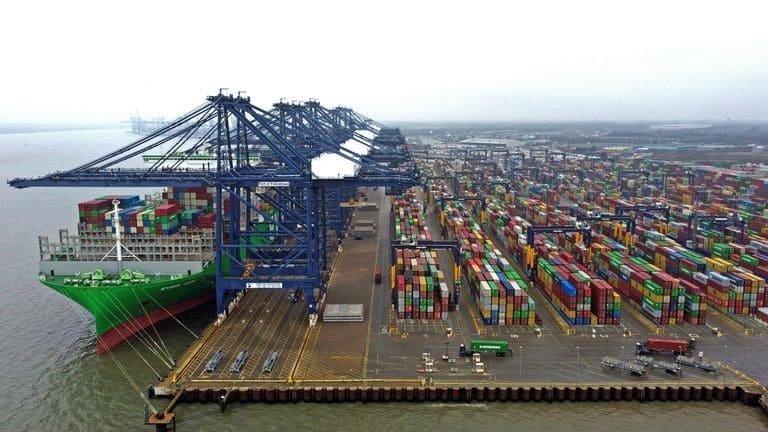 Unite's representative told, "… this dispute is entirely of the company's own making. It has had every opportunity to make our members a fair offer, but has chosen not to do so."
"The company has made £233 million profit in the last two years, £100 million of that has gone to shareholders, and with the rate of inflation as it is, it's 12%, all we're asking for is a fair pay deal compared to the cost of living", said a Felixstowe worker on strike. In 2020 alone the Felixstowe Dock and Railway Company recorded pre-tax profits of £61 million. In this same year, the parent company CK Hutchison Holdings Ltd. paid out £99 million to its shareholders.
"They can give Felixstowe workers a decent pay raise. It's clear both companies have prioritized delivering multi-million-pound profits and dividends rather than paying their workers a decent wage," said another worker.
On one side where companies have made record profits, the workers are struggling with increasing inflation and hence the cost of living. Many workers explained that they are facing "miserable" conditions and that they would be even worse during winters, given the hike in electricity prices too.
Many workers expressed concerns over the working conditions that have worsened for them over the years now. The latest example is of the pandemic, where the workers were required to work throughout the pandemic without any protections from the virus, and no additional pay. A worker on strike explained this saying, "It's getting hard for working people. Throughout COVID we saw who was important in this country, with the hard work that everyone did; doctors, nurses, the railway and everyone else who was involved with keeping the country running. It's sad when we see huge profits for corporations and working people are struggling with the rising cost of living; we want a fair society, we want fair pay."
A worker explained that newer workers are now being hired on meager salaries compared to more experienced workers for doing a similar job. They also explained how other benefits like pensions and health insurance have been slowly taken away.
There is growing solidarity for the striking workers among different sections of workers from UK and across the world. The Felixstowe strikers said that they had received messages of support from workers across Europe and America, and also from Australian dock workers.
Dock workers at the Felixstowe have also expressed solidarity towards workers from different parts of Europe going on strike and have agreed for a joint strike action with other dockers.
Workers are realizing the need to consolidate this struggle and include many more sections of the working class like rail workers, health workers, etc. A worker from the strike said that, "This is an international struggle. As anyone with decent terms and conditions or an organized work force, we are all under attack. If you haven't got a voice, you haven't got anything. We should have a fair share and a chance to have good conditions, good National Health Service and good services, and it should be a good country to live in. It's a shame that just a few want to take everything and leave the many out."
He further added that, "I hope that our strike at the Felixstowe port gives other people inspiration to say actually you can have a voice, you can achieve things. Don't be afraid to have that voice and fairness and the right results should always come out on top. So, I'd like to think that other people can gather momentum from what we're doing here—we show solidarity and support to others, and we'll make it a much better place to live in this country."
The union has further warned that it will announce multiple strike dates if their demand for a decent pay rise is not met with.
The fighting spirit of dock workers in England is an inspiration for workers all over the world, including India to fight for their rights and wages which every worker must get to live a decent life.