Report by Kamgar Ekta Committee (KEC) correspondent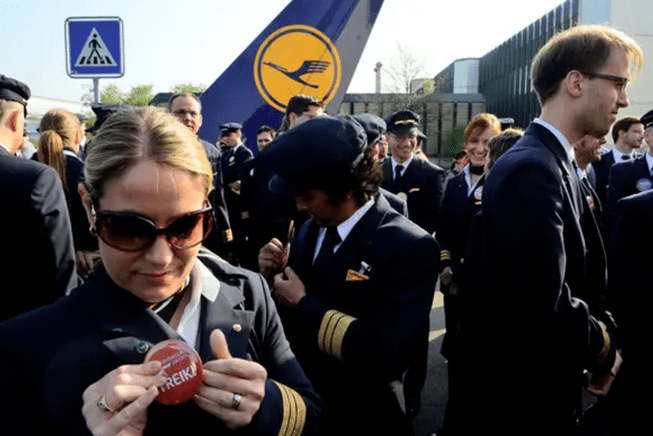 The unprecedented inflation in Europe is now forcing even well qualified and skilled workers like pilots to resort to strike for pay rise to compensate for soaring energy prices.
Lufthansa is the biggest airline in Germany and also one of the biggest airlines in Europe. As negotiations between pilots and the airline management over pay rise failed, more than 5,000 pilots went on a strike on Friday, 2nd September. The strike was organised by the Labour union Vereinigung Cockpit (VC) and the pilots did a 24-hour walkout.
The VC union is demanding a 5.5% pay rise this year and automatic inflation compensation thereafter. It was also pointed out that the terms of work and pay for entry level pilots is very poor. Hence, the union also raised a demand for better terms for entry-level pilots.
This strike by pilots of Lufthansa is not the first one this year for the airlines. In the last week of July, more than 20,000 security workers and other ground staff of the airlines had gone on a strike. With shortage on ground staff, it was just impossible for the flights to continue operations. This forced the management of the airlines to pay attention to the demands of the striking workers.
The increasing burden of the ever rising cost of living on the workers, and the cruel attitude of the top management have led to a series of strikes in the recent past. Different sections of the workers including airline workers have come out in protests in different parts of the world. In July, about a thousand pilots of the Scandinavian Airlines (also known as SAS) had organised a one day strike. In the same month the workers of British Airways had announced a strike at the London's Heathrow Airport. They called it off after the management agreed to fulfill their demands of wage rise.
Airline workers from different airways have already announced strike actions. Pilots of Eurowings, which is a subsidiary of Lufthansa, have voted in favor of a strike if their demands are not fulfilled in the next rounds of talk with the management. The cabin crew of Ryanair in Spain have planned weekly 24-hour strikes through January 2023 in an effort to secure better work conditions. There are also reports that there is increasing unrest among the airline workers in the United States.