Report of All India Railwaymen's Federation (AIRF)
Ready to go to any extent for old pension: Shivgopal Mishra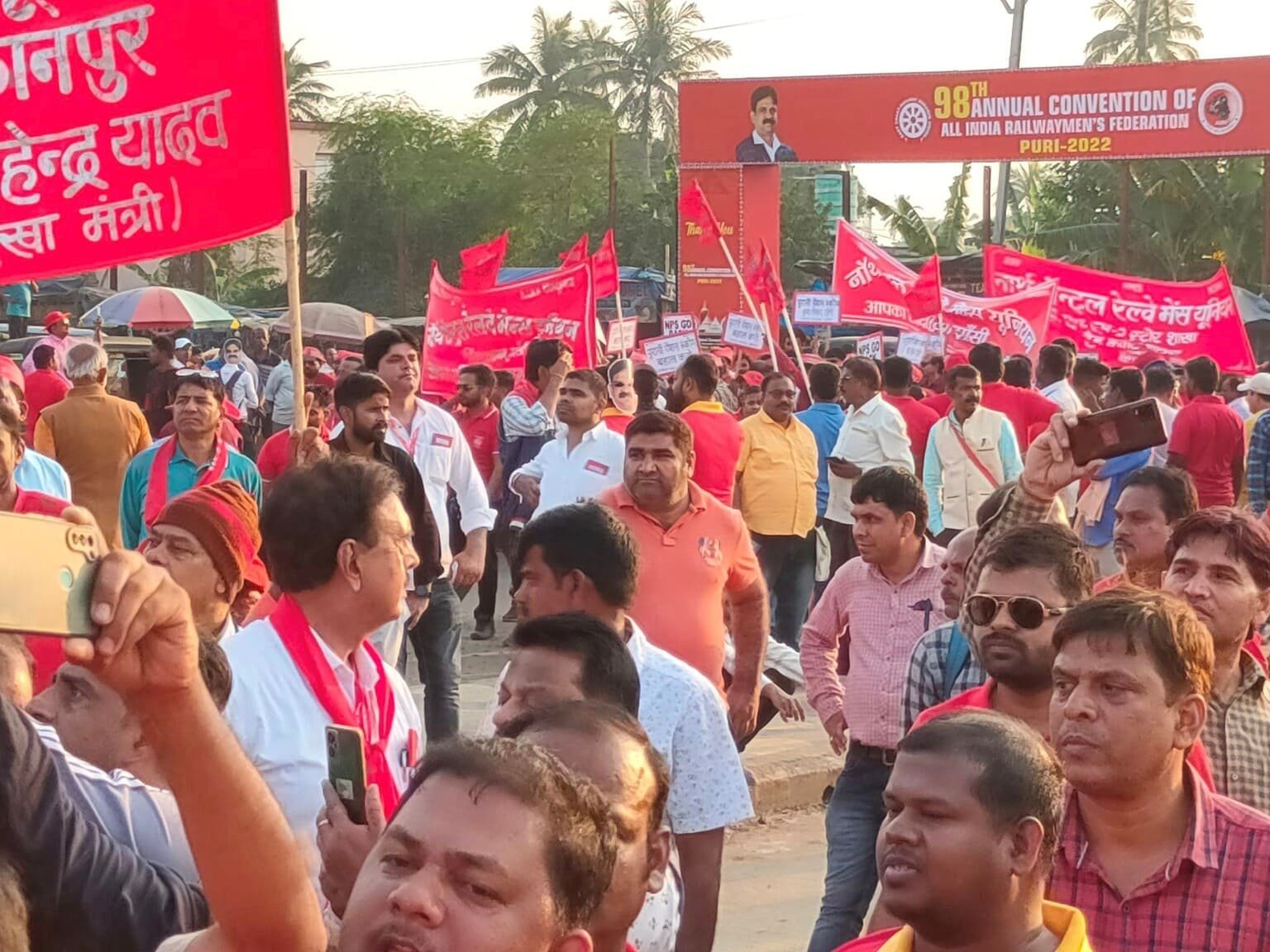 Shivgopal Mishra, General Secretary of All India Railway Men's Federation, addressing the open session of the National Convention, said that old pension is not a charity, it is social security for railway employees, to restore it, the federation is ready to go to go to any extent! Chairman Dr. N Kanhaiya said that there is a long history of AIRF struggle behind all the facilities that railway employees have received today!
Before the open session, a huge rally was organized from the Railway Rest House, via different routes, to the railway station, where the open session was held! General Secretary Shivgopal Mishra addressed a large number of young railway workers in the open session and discussed the old pension in detail!
General Secretary Shivgopal Mishra said that restoration of old pension is among the highest priority of the federation today! We are trying to bring central employees, state workers, teachers together in protest against the new pension scheme! This is why our Federation central leadership has started the conversation locally! All India Railway Federation is preparing for a big movement for this!
Many times it is said why NPS was not abolished in 2004 itself! You should know that the number of young railway staff was less at that time, there was no one to hear our voice, today our strength has increased! Today we have the power to decide in our favor! The General Secretary said that this is the reason why our two railway ministers Mallikarjuna Khadge and Piyush Goyal wrote a letter to the Finance Ministry that railway employees should be given pension from the government treasury as before, but the Finance ministry is silent! This silence is not going to last long, the decision must be taken in the interest of the employees!
All India Railway Federation General Secretary Shiv Gopal Mishra said new pension scheme is truly no pension scheme, employees get pension in name only under the scheme; all railway employees are worried about new pension schemes.
But before next Lok Sabha elections, a movement is on the way! All government employees, state employees and central employees across the country will participate together in the movement! The General Secretary said that the agitation against NPS will be started at the state level also, more than 5 lakh government employees from across the country will be called to Delhi and will surround the Parliament! Even after this, if we are not heard, we are ready to go to any extent! If the government forces us, then we are not going to step back even from jamming the railway wheel!
AIRF General Secretary Mr. Mishra called the new pension scheme ridiculous. He said that the government in NPS is cutting the money of employees and contributing some of its share from the government treasury! No one knows where that amount is being invested now! If the youths are united with the restoration of the old pension, then victory will be ours too!
There has been no big clash with the government on any issue since 1974, but the old pension is such an issue, if the government does not change its attitude, the conflict is certain! General Secretary warned that those who are getting pension do not need to be very happy, the government and the Policy Commission have an eye on them too! So we all should unite on the old pension issue and come under the red flag and make up our minds for the big struggle!
The General Secretary said that the Railway Minister said many times during the meeting that the work that the railway workers are doing efficiently will never be outsourced. We trust the Railway Minister, but not the policy and intentions of the government! He said the government is plotting privatisation from the back door into pieces! AIRF does not accept this. Privatization of rail is not in anyone's favor, it will not benefit railway workers, nor will it benefit railway consumers! Privatisation is not acceptable to us, we are opposing it and will continue to do so!
General Secretary Shivgopal Mishra raised the question that where were these people during Corona, while our railway workers did their job without taking a single day leave! But, about three thousands of our railway workers were martyred during the work in danger! The conditions in which railway workers work, are not hidden from anyone, yet our words are ignored!
General Secretary said that our DA's arrear is not a dead issue, it is also being discussed. If there is an attempt to snatch the arrear, the struggle is bound to happen!
AIRF President Dr. N Kanhaiya reminded railway workers that whatever facilities we are having today, they were not easily achieved. Not only there was a long struggle for it, railway workers were shot in the chest during the movement. Dr. Kanhaiya said that the government should not only talk about all demands of railway workers but also fulfil them, because today employees are not only aware of their rights but are also willing to pay every price to get them!
Rup Narayan Sonkar, General Manager of East Coast Railways, refreshing some of his old memories, said that he has worked in many railway sectors and he got the support of railway staff and union! He said that he joined Indian Railways as AEN and because of the cooperation of the staff he reached here today!
CEO Alka Arora Mishra, PCPO P's Mandal, DRM Rinkle Rai and some others also addressed the open session! In this open session mainly AIRF Working President J R Bhosale, Treasurer Shankarrao, Raja Sridhar, Zonal General Secretary K L Gupta, AM DCruz, Mukesh Mathur, Mukesh Galav, Venu P Nair, SNP Srivastav, R D Yadav, Dr Ashish Vishwas, Amit Ghosh, SK Tyagi, Manoj Behra, LN Pathak, AIRF Women Chairperson Jaya Agarwal, AIRF Female Convener Praveena Singh, Zonal Secretary Champa Verma were present! East Coast Workers Union General Secretary P.K. Patasni welcomed all the guests and railway workers from all over the country! The program was concluded by Chairman NVSS Rao!
Mahendra Srivastava
Phone 9140369128