A. Report by Com. A Bholanath. Divisional Secretary, All India Loco Running Staff Association (AILRSA), Waltair (WAT) Division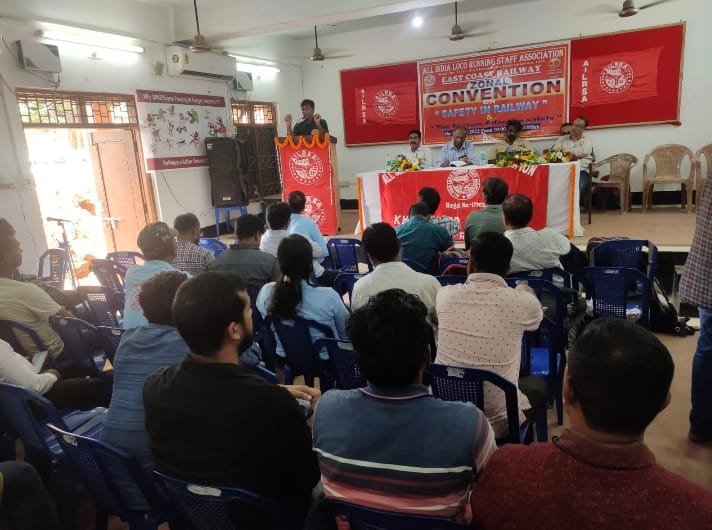 Comrade! AILRSA East Coast Railway (E.Co.) organised the Zonal Convention on "Safety in Railways & the factors affecting Safety" at Bhubaneswar on 12 July 2023. In this program CITU leader Com. Janardhanpathi, AISMA General Secretary, E.Co.Railway, Com. M. Mohanty & main speaker Com. R. Kumaresan President/Southern Railway addressed the gathering. Com. S.K.Choube Zonal President/E.Co.Railway presided the convention; Com. J.P Dhandapath General Secretary E.Co.Railway/AILRSA and all Divisional Secretaries & Central leaders of AILRSA also addressed the gathering.
The leaders gave a detailed account of unsafe working practices and the factors which are affecting the safety in E.Co.Railway and as well as most parts of Indian Railways. They also told how the safe working in Railways can be established to prevent the accidents.
The main reason for the unsafe working is not filling up of the vacancies of safety category and extracting more and more work from Crews which compels the Crews to work long hours.
Crews required to perform the frequent consecutive night duties.
Crew leaves are denied frequently.
Crew weekly rest also denied frequently.
Crews weekly rest is given only 14 hours after the headquarter rest which is not adequate to recoup the energy & spirit for next coming working week.
Many goods trains are running without the provision of Guard and the Crews are forced to perform the Guard duties along with Loco Pilot duties.
Crew and Guard are forced to perform the Carriage & Wagon staff work along with their duties by eliminating or surrendering the C&W staff.
The Crew required to work in the multiple sections and for which the Crew required to give adequate trips of road learning but most Railway authorities not interested to afford the same.
Several types of locomotives are introduced with new technology and new modifications but Crews are not given adequate training.
Scheduled trainings for refresher courses, conversion form AC to DC and vice versa training, Promotional training scheduled time period is curtailed drastically.
There is a tremendous pressure on crews of the punishment of removal from service in cases of Signal Passing at Danger (SPAD).
The Railways is following attitude of finding out the who went wrong by micro-watching on crew activities through CVVRS in loco cabs instead of adopting the what went wrong attitude, which creates tremendous pressure on crew.
Privatisation leads towards unsafe working practices.
Minimum punishment in SPAD cases is removal from service and Invoking of rule 14 (ii) unconstitutionally creates tremendous pressure on crew while working the trains.
Safety must be given more priority than punctuality in true spirit.
Hence, this zonal safety convention demanded:
filling up of all vacancies of safety cadre immediately,
stop extracting long hours duty from crew which creates fatigue and may leads to micro sleep,
other category work should not thrown on Crew such as Guards work, C&W work etc.,
adequate period of training to be given to the crew for all training schedules, adequate period of training to be inducted to the crew for all new technology engines and equipment whenever launched,
ensure addressal periodically of the staff grievances at all levels,
AC & toilets to be provided in locomotives,
Loco tools and safety equipment to be provided in locomotives
Stop privatisation of Railways.
The Safety Convention was concluded after the Press Meet.
Yours comradely,
B. Bholanath
Divisional Secretary
AILRSA/WAT