Report by Kamgar Ekta Committee (KEC) correspondent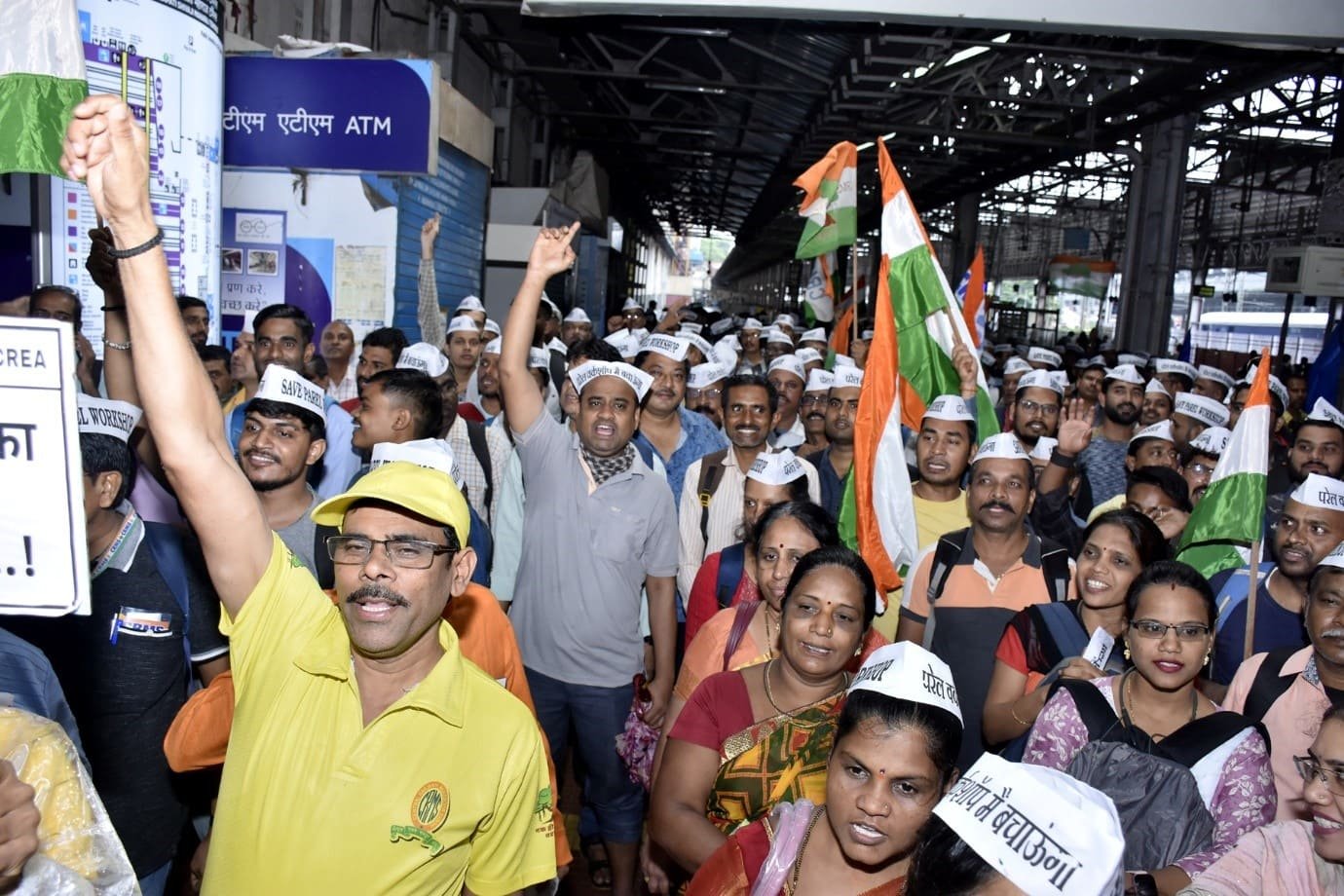 Rail workers gathered in large numbers on 18th July at the Chhatrapati Shivaji Maharaj Terminus (CSMT) to protest against the closure of the Parel workshop. The 144-year-old Parel rail workshop employs about 2000 workers and is primarily responsible for coach repairs and production of narrow gauge coaches. On an average, 360 LHB coaches are maintained and repaired at the Parel workshop every year.
Recently, a letter was issued to the workers of Parel workshop regarding their redeployment to three new workshops in Badnera, Latur, and Lote in Ratnagiri. To justify the redeployment, authorities claim that these new workshops require a staff of 2000 workers. However, why are existing workers redeployed when new workers should be hired? Authorities have made several attempts to close down the Parel workshop in the past. Different reasons have been given each time, such as the conversion of the workshop into an outstation terminal for passenger trains or the laying of fifth and sixth tracks of the station.
Workers claim that the real motive is to close down the 144-year-old Parel workshop and auction the 45-acre property to private players at throwaway prices. The land on which the workshop stands is prime property in Mumbai, and private players have been eyeing it for a long time now! Workers are not happy with this decision of redeployment and closure of the workshop and have been protesting against it.
The protesting workers explained that they have always upgraded themselves with respect to the changing rail coach technologies. The workshop was first responsible for manufacturing diesel locomotives, and eventually, it started repair work of electric locomotives. The workshop has been involved in repair of cranes used in railway accident sites and development of high-speed coaches for carrying goods. Workers are now suggesting utilising the workshop for the upkeep of the new Vande Bharat trains.
The redeployment of the workers is not only an attack on the workers but also on their families. Hence, they are coming out to protest in large numbers. For the protest demonstration held on 18th July, workers from Rail Kamgar Sena, All India SC/ST Association, Central Railway Engineering Association and Central Railway Employees Union, under the leadership of Central Railway Mazdoor Sangh (CRMS), were present. They handed over a memorandum of their demands to the General Manager. Despite heavy rains, hundreds of workers participated in the demonstration.
As in the case of the Parel workshop, thousands of acres of valuable railway land and assets are being monetized in the country. These assets, which have been built using people's money and workers' effort, belong to the workers and public at large. Workers and passengers must unitedly oppose the sale of public land and public assets for private profit!