Report by KEC correspondent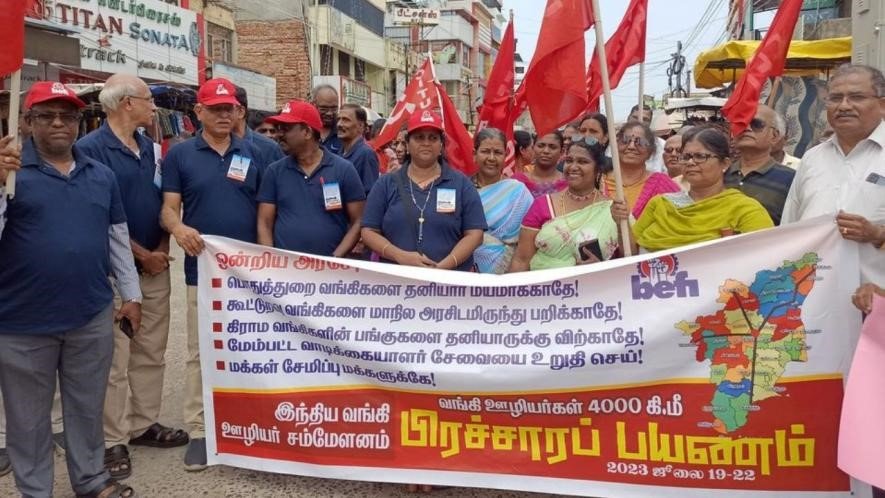 On 19th July Bank employees organized a massive vehicle rally against the government's move to privatize the public sector banks. They rallied with the slogan of "Save Banks, Save Nation" under the leadership of Bank Employees Federation of India (BEFI). Many bank workers joined the rally to make it a success.
Just like every other public sector, even banks are suffering from a huge number of vacant posts. On one side where lakhs of posts are unfilled and lie vacant, on the other side increasing number of contract workers are being employed in public sector banks. It is important to note that these contract workers are severely exploited and not even trained enough for the work. All this affects customer service which is then used to create divisions between bank employees and customers. A protesting employee explained that on the one hand, customers are being looted by charging them for SMS charges, ATM charges, transaction charges, passbook charges, etc., and on the other hand workers are also being exploited.
Successive governments have taken steps for privatization of banks. It is one of the dearest sectors on which the capitalists would want their direct control. A statement distributed by BEFI noted that lakhs of crore rupee loans are waived off every year for the big capitalists. The drive for privatization of banks is the agenda of the capitalists and benefits them directly. Private banks work only for profit and exploit people and their savings. The smallest portion of people's savings are dragged out of their hands are and used by the private bank owners to fulfill their imperialist aims.
Another worker explained in his speech how privatization of banks will directly impact the people. Interest on loans for common people will rise sharply and loans to people who need them like agriculture, small businesses, education loans, etc. will be denied.
A BEFI leader said in his speech that, "High-level corruption is taking place in private banks. Before the nationalization of banks, 558 of them went bankrupt. After that, 38 private banks went bankrupt. Therefore, if banks are privatized, people's savings of Rs 187 lakh crore will be unprotected."
Privatization of banks is an attack on the bank employees and bank customers, i.e. each one of us! We need to unite and fight against the privatization of any public service. We have to unite to fight against the agenda that fulfills the interests of the capitalists instead of workers and people at large. The fight against privatization of banks is our fight and each one of us should join hands in this.