Report received from Com. Jitendra Kumar, Joint Secretary, Varanasi Division, All India Insurance Employees Federation.
The successful 29th General Convention of North Central Zone Insurance Employees Federation (NCZIEF) held in Bareilly (Uttar Pradesh) gave a call for strengthening and protecting the organization.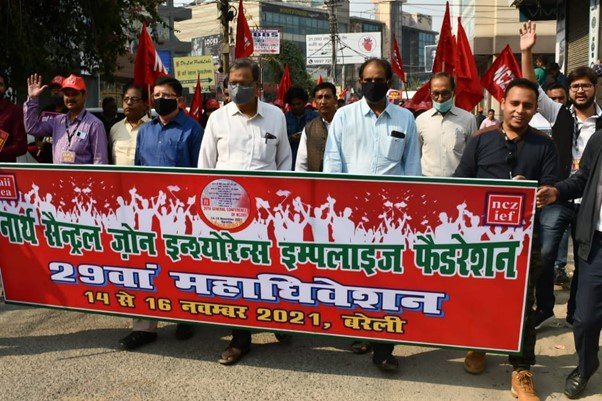 (English translation of report in Hindi)
Message from Com Sanjeev Kumar Sharma
Red salute to the comrades of Bareilly for a successful and spectacular event!
       The 29th session of NCZIEF was held from 14 -16 November 2021 in Bareilly. This 29th convention of NCZIEF was organized in a very grand manner by the comrades of Bareilly. With no experience of organising such a big event and with the cooperation of merely 225, the comrades of the Insurance Workers' Association, Bareilly Division, organized the conference under the leadership of Com. Geeta Shant and fellow Arvind ji, in spite of all the hurdles created by the district administration. On the first day, on November 15, a grand rally was organized, in which more than 500 comrades participated and by raising slogans against the anti-farmer-labour and anti-people policies of the central government they demanded a change in these policies by raising.
The people of Bareilly were overwhelmed by this rally, because it was the first experience for them, when such a large number of associates of an organization with full discipline, raised their voice to protect their institution as well as protect the interests and rights of the common public. This three-day convention was successfully organized, and it reflects the commitment of the colleagues of Bareilly towards the organization.
It was a very challenging task to organize this convention without any experience after the second round (peak) of the global disaster Covid-19, but the colleagues of Bareilly accepted this challenge and successfully organized the convention with their dedication, passion and enthusiasm. This shows that the organizational capabilities of our Bareilly comrades are unmatched. The families of many friends have also contributed in the successful organization of this convention. The participation of young colleagues and female colleagues of 2020 in this event was also very spectacular.
A scintillating play "Aakhri Salaam" was staged under the direction of Saathi Shamim. The play was based on the loot of the government treasury in Kakori for arranging money for the country's freedom struggle by the freedom fighters of the country. It showed the contribution and supreme sacrifice of great freedom fighters like Ramprashad Bismil, Rajendra Lahiri and Ashufalla Khan, and also gave a beautiful message of Ganga-Jamuna culture of religious unity.
        Congratulations, best wishes and heartfelt gratitude to the colleagues and their families from Bareilly for this wonderful and successful event, and we dedicate the 29th session of the North Central Zone Insurance Employees Federation to the colleagues of Bareilly.
With revolutionary greetings,
Sanjeev Kumar Mishra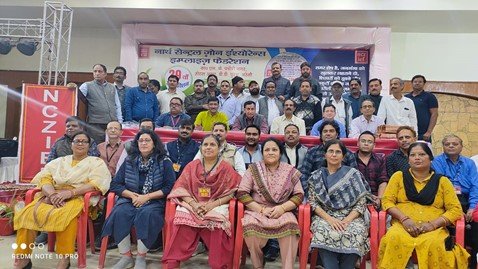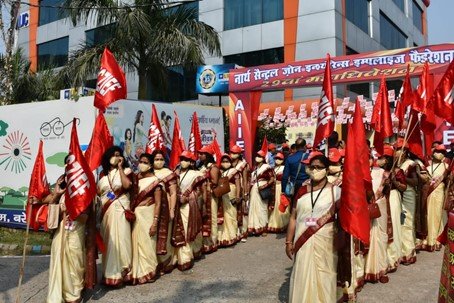 \