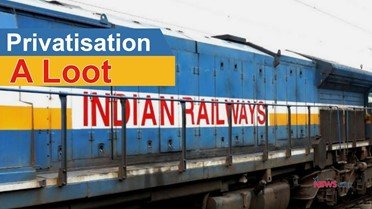 First of all, I want to convey my lots of good wishes for 2022, my greetings for 2022. This year is important for us, I hope that our comrades will win this fight. As you have explained, there have been many strikes in the last year but some issues are still pending. I hope that this year will be very good for our fighting comrades and that they will be fit and healthy and successful in their fight to save their sectors.
Today, you have given me an opportunity to speak at the beginning of the new year, and a galaxy of speakers and participants are here. Particularly, I congratulate the power workers of J&K and brother Tickoo, who have played a vital role to safeguard the interests of power workers in J&K. They have done good work. Before this, Uttar Pradesh power workers also fought. The government takes a step back and then takes more steps ahead. Like Comrade Mathew said, the kisan andolan went on for 13 months and 700 people sacrificed their lives in this period. Only then did the government understand that the peasants were not going to leave and the andolan was going to harm them. Considering the elections, especially of Punjab and Uttar Pradesh, the government took a step back. However, many of our comrades are still worried about what will happen next. These are the challenges we are facing.
Today, Comrade Mathew said that we must speak on the topic today. I am the Chairman of All India Railwaymen's Federation and the Convenor of NCCRS. I am also the secretary of the Joint Action Committee of Central Government employees and the Convenor of their national JCM
Comrades, it is true that under British rule and after independence, governments have tried to privatise railways. Fortunately, because strong federations are there, they could not privatise us. They have attempted this many times. Earlier, under the Congress government, the vice chairman of the Planning Commission, Montek Singh Ahluwalia, had written a letter to our Chairman saying that when railways all over the world are being privatised, then why can't Indian Railways be? But they were not successful in their mission. Minister Mamata ji had also opposed this letter. Ultimately, the matter was closed there.
We are facing a similar situation under the NDA government. They are working on the same agenda. Last year, they made all attempts, they brought out tenders to run 150 private trains on 100 routes but unfortunately they could not do this. Ultimately, nobody showed interest. IRCTC was forcefully brought in. Another company, Megha Engineering and Infrastructure Ltd., submitted bids. Later, Megha withdrew, and only IRCTC was left, so the tenders were cancelled.
This was a wholesale plan to change the system and open the doors to private operators in the Indian Railways. We opposed this throughout the nation. During negotiations, we told the honourable minister that we are not opposed to the entry of any competitor, but they should lay their own tracks, signals, platforms and other infrastructure. Then we are ready to be in competition with them. But we will fight against the fact that their trains are being given priority although they use our tracks, engines, drivers, signalling and all infrastructure. We will not allow such trains to be run.
Although no bidder has approached, the government is still trying to bring private operators into this sector. They are not stopping. Corporatisation of production units is one such case. It was announced that production units will be corporatised, starting with MCF in Rae Bareilly. It is our best unit. Nearly 2,000 people work there: 1886. Every year, we make nearly 2,000 coaches there. The factory uses state-of-the-art technology. They are making very good coaches, which can easily compete with coaches made by foreign companies like Alstrom, Bombardier, Siemens. I mean that we are doing our work in the best way possible. Despite that, our best production unit is being corporatised first. They have planned to open MCF to the market and start inviting bids to privatise it. This was opposed in protests across the country. Our comrades united on one platform and challenged the government. They also talked to us, after which they put their proposal on hold for some time. They also set up a committee, which said that not one but two corporations should be formed. The Board fought over this for many days. Now, this discussion has stopped temporarily.
The latest issue in front of us is that the honourable chief minister has announced that 26% of the assets of the railways will be sold for 1 lakh 52 thousand crore rupees. This includes the Dedicated Freight Corridor, CONCOR, Konkan Railways, 1438 km OHV, tracks, stadiums, stations, colonies, etc. All of this is being given away. Till now, nothing is fixed. Only Habibganj station building had been corporatised long ago. However, they had assured the employees that they won't suffer any harm, and the number of workers will increase instead of decreasing. There has been no increase in the number of workers but there has also been no decrease. However, the station has become a point of harassment for the public. They are being charged Rs. 50 to park motorcycles, Rs. 150 for cars. Other free services like waiting rooms are being charged now. In this way, some things have started. They are also building other such stations. Other companies can come and develop these stations and use them commercially. We are discussing how workers and users should react to this development. We are meeting users and educating them about the matter and warning them about the impending danger.
So far, we have been trying that the announcements made by the government do not materialise. January is here, March and April will be here. We will hear the budget announcements in February. Till now, the government does not appear to be aggressive regarding railway privatisation. On two occasions, I have met the honourable Rail Minister Ashwini Vaishnav and discussed this matter. Both times, he assured me that the government does not intend to privatise railways, they have stated this in the parliament and answered questions there. He said that they have said it publicly that they will motivate workers to improve productivity and develop railways. I said that I appreciate what you are saying, but the policy of your government is different from what you are saying. How are you talking against the government policy? To this, he said that whatever he said so far is supported by the government and head of the government. They will not do anything that will lead to a confrontation. That was the honourable minister's personal view. However, as far as All India Railwaymen's Federation, National Federation of Indian Railwaymen, or other railway unions and associations are concerned, we have to be prepared to continue our fight.
As I had informed you earlier, All India Railwaymen's Federation had decided in their General Council to form Rail Bachao Desh Bachao Committees at every big junction and station. I am happy that we have been successful in this effort. I am confident that by 31 January, we will form Rail Bachao Desh Bachao Committees on every big junction and station in the country. All India Railwaymen's Federation will work to organise and manage these Committees, but we will involve all unions of railways as well as other workers' unions, teachers' unions, students' unions, farmers' unions, journalists. In February, we are planning an action.
The consumer is important. Privatisation will affect consumers worst. So, we have to educate them: tomorrow, the train tickets will be expensive, and cheap and safe service will be out of your reach. That is why we must unite and form a people's movement. If we do this, the no one will even think of privatising railways. Now, only the honourable minister is saying that they won't privatise railways, but later, no one will think of it. We are also working on a united struggle with our other comrades.
I would like to say that 1- or 2-day strikes are not possible in railways. I am saying this because we have done a 1-day strike and two indefinite strikes. In 1968, central government employees and railway employees organised a strike that resulted in the victimisation of 1 lakh people. Ten of our comrades were martyred. Many comrades were fired from their jobs, many were transferred due to the 1-day strike. The 1974 strike went well for 10–15 days, and for 22 days in the Bikaner workshop. The military had been called in but they could not run the trains. There was less victimisation in that strike. There were some attacks on federations, unions, and workers. However, in retrospect, the 1-day strike was worse for us in terms of victimisation.
Further, the railways work round the clock. We work in shifts. Till the 72-hour cycle is not completed, people cannot participate in the strike. Whenever I have been invited to meetings of central trade unions, I have told them that our problems will not be resolved by 1- or 2-day strikes. First, we have to sit and decide what are our demands are. Some comrades will agree and some will disagree with the demands. I have suggested that the New Pension Scheme is added to the current agenda. There are 12 lakh people who are under the New Pension Scheme, so it is an important issue for us. Central trade unions had called a meeting in which I had participated. I told them that if they want railways to participate, they should discuss with us and incorporate our agenda, then we can join. Now there are discussions about a 2-day strike, which we will support. On the day of the strike, our workers will participate in demonstrations, dharnas and give our support. However, they will have to sit with us and decide the agenda, only then can we participate in the withdrawal of labour. If this is addressed, we will have a successful discussion.
You have formed a very strong platform and we support you a hundred percent. We stand with you. My request is, the problems are such that they cannot be resolved in 1-day or 2-day strike. So, try to help us. We are trying to convince our central trade union organisations that instead of 1-day or 2-day strike, they should go for an indefinite strike and the agenda should be discussed with everyone: with railwaymen, with bank employees, with power sector employees, with coal employees. All federations should be brought together and the demands of all workers should be taken, particularly matters of privatisation, inflation and the New Pension Scheme. There should be one agenda, one memorandum for the whole country. There should be indefinite Bharat Bandh, then only these things can be resolved. If we are not able to do this, by just doing 1-day or 2-day strike, this government is not going to hear. You have seen that kisans have sacrificed but they have achieved something, they have given confidence to us also. In these circumstances, our humble submission is that you should make an atmosphere, we will also support you. We are trying to convince our comrades from the central trade unions. We should go for an indefinite strike!