Message from Dr. Om Sudha, National General Secretary, All Inida Confederation of SC/ST Organisations (All India Parisangh)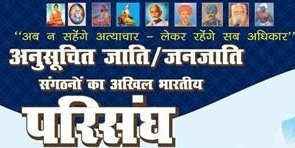 Friends,
On 2nd April 2022, Saturday at 12 o'clock, it has been planned to demonstrate against privatization at the state / district / block level across the country.
Friends, the date of April 2 is very important for us. Because on this day in the year 2018, dozens of our comrades were martyred to save the Scheduled Castes and Scheduled Tribes (Prevention of Atrocities) Act and thousands of comrades were booked across the country and had to go to jail.
We are fed up with the anti-reservation policies of the central government. Now we are being denied our reservation/entitlement right by way of privatization. We believe in struggle. This is also the tradition of our community and it is also the heritage.
All government undertakings including BHEL, SAIL, GAIL, Rail, BSNL, MTNL, LIC, Airport, ECL have either been sold or are in the process of being sold. The agenda of this government is clear -Completely abolishing reservation and re-implementing Manusmriti.
But we will fight…
Start your preparation.
Dr. Om Sudha
National General Secretary, Parisangh