Com. Mohan Sharma: Right of the states under threat
-from the Lokmat News Network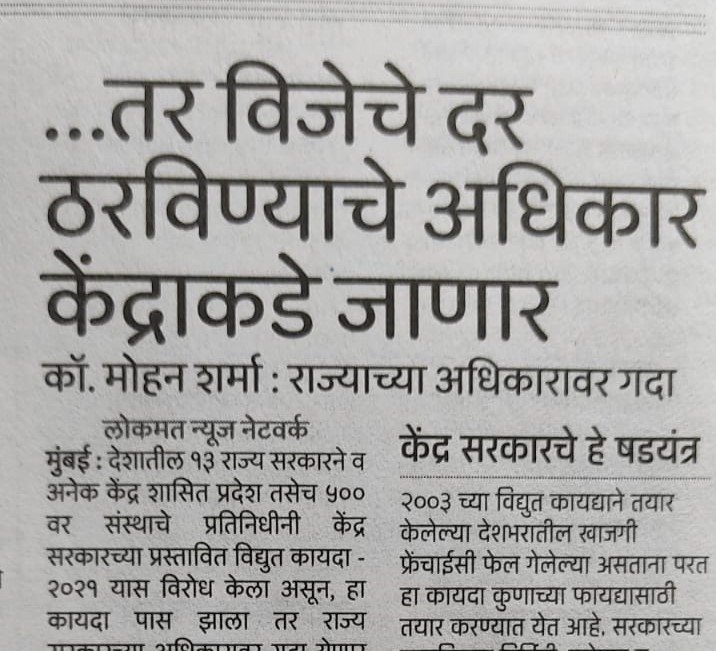 Mumbai: 13 state governments, many centrally administrated territories as well as representatives of more than 500 organisations have opposed the Electricity Bill2021 that ahs been proposed by the Central Government. If this Bill becomes a Law, then the state governments will have to wash their hands over all their right including the right to fix electricity rates. Com. Mohan Sharma of the Maharashtra State Electricity Workers' Federation said that all the rights will go into the hands of the Central Government.
They said this in an online meeting in the presence of All India Federation of Electricity Employees, the National Coordination Committee of Employees and Engineers as well as of electricity workers, engineers, Samyukta Kruti Samiti, Bijlee Bachao Samyukta Kruti Samiti and other independent organisations.
Mohan Sharma said that if this Bill is passed, the subsidy given to farmers, poor people and other consumers in the country will be stopped. The government owned electricity companies will be sold off to capitalists for a pittance.
Com. Krushna Bhoyar, the National Secretary of the All India Federation of Electricity Employees said that the 24 organisations of the three electricity companies in Maharashtra have united against the electricity privatisation policy. The 15 lakh workers in the country and the 86,000 employees, engineers and officers as well as the contract workers of the three companies in Maharashtra have given a good response to the call of the National Coordination Committee to join in the strike called on August 10 to oppose the Revised Electricity Act 2021.