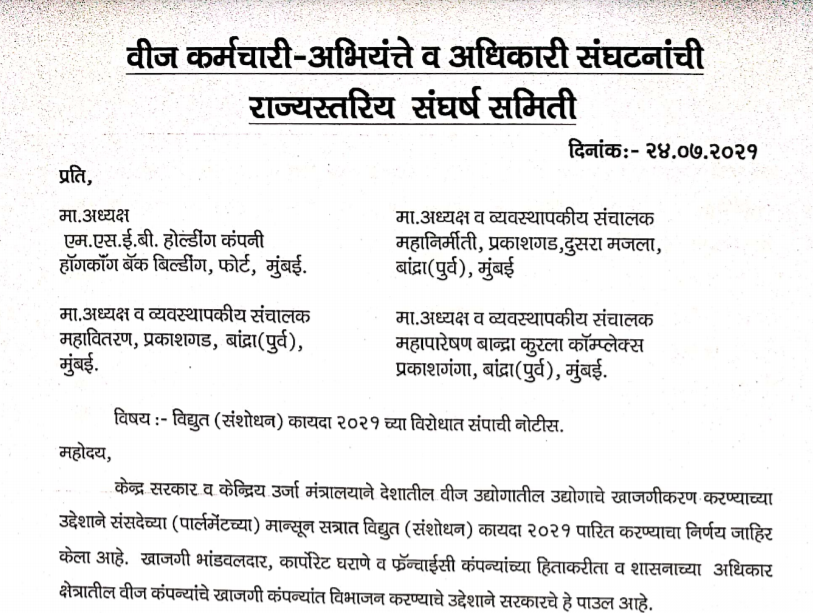 On 24th July 2021 a strike notice has been sent to The President, the MSEB Holding Company, the Managing Director Mahanirmiti, the President and Managing Director Mahavitaran and to President Managing Director, Mahapareshan on behalf of officers and workers of the power sector of Maharashtra.
The strike notice clarifies that in spite of united opposition by power sector workers across the country, the Central Government is planning to table the Electricity Act Amendment Bill 2021 in the current parliamentary session. It further clarifies that the Bill has not been discussed with the main stake holders, i.e. electrity consumers and power sector employes. The strike notice has warned the Government of Maharashtra t that power sector workers and officers will go on a 24 hour strike on 10th August unless the proposed bill is withdrawn by the Central Government.
The strike notice has been signed, among others, by:
Krushna Bhoyar, General Secretary Maharashtra State Electricity Workers Federation, Sanjay Thakur, General Secretary, Subordinate Engineers Association,
Syed Jahiroddin, General Secretary, Maharashtra Rajya Vij Tantric Kamgar Sanghatana,
Dattatray Gutte, Chief General Secretary, Maharashtra Rajy Vij Kamgar Congress (INTUC),
Sunil Pathak, President, Maharashtra Rajya Vij Adhikari Sanghatana,
Sitaram Chavan, General Secretary, Maharashtra Rajya Vij Nirmiti Kamgar Sanghatana.