Press release of Coordination Committee of the Government – Semi government Staff – Teachers Organisations, Maharashtra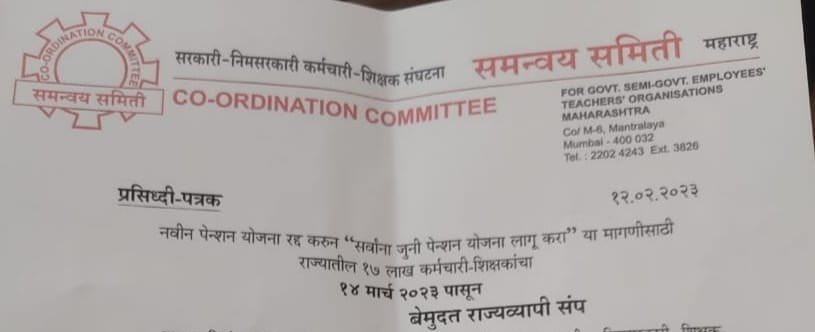 (English translation of Press release in Marathi)
Sarkari – Nimsarkari Karmachari – Shikshak Sanghatana Samanvay Samiti, Maharashtra
(Coordination Committee of the Government – Semi government Staff – Teachers Organisations, Maharashtra)
Press release
Indefinite statewide strike by 17 lakh staff and teachers of the state from March 14, 2023 to demand cancellation of the New Pension Scheme (NPS) and to fulfill the demand of
"Apply Old Pension Scheme (OPS) to All"
An emergency meeting of the office-bearers of the constituent organizations of the Government-Semi-Government, Teaching-Non-Teaching Staff Coordination Committee was held on Thursday, February 9, 2023, at Ballard Estate, Mumbai. The participants expressed their feelings that due to the continuous neglect of the rightful demands of the staff and teachers by the state government, the anger of the staff and teachers there is tremendous anger against the government all over Maharashtra.
Especially the demand to "reinstate the old pension scheme", which is the most dear and is a guarantee of future security, has created a storm across Maharashtra. It is felt that state government is expressing a dubious position regarding this demand. From time to time the employees tried to draw the attention of the government to this demand by holding agitations but it was seen that the state government tried to get away by making some dubious statements. Therefore, the current negative stance of the government regarding the deletion of NPS can be seen.
The states of Rajasthan, Chhattisgarh, Punjab, Himachal Pradesh, and Jharkhand have implemented the old pension scheme for their employees with retrospective effect. The above state governments have shown that it is possible to restore the old pension if the state finances are properly planned.
Even in Maharashtra, a state with industrial progress and a legacy of progressive thinking, implementation of the old pension scheme is possible, but it requires the political will to do so. From time to time the organization has played an insistent role for the demand of "Implementation of old pension scheme to all" by holding representative agitations and through timely correspondence. But the government has continuously turned a blind eye to this burning issue of the future. A government that verbally praised the employees who performed their duty at the risk of their own lives during the Corona pandemic, now shows indifference to the existential question of old pension. This two faced policy is not right. Because of this, government employees and teachers across Maharashtra are agitated.
Today on 12th February 2023 an important meeting of the State Executive of State Government Employees Central Association, Maharashtra was held at Civic Service Prabodhini Auditorium, Nashik. In this meeting, the resolution regarding 'indefinite strike' that was approved in the Coordination Committee meeting held on February 9, 2023, was discussed district wise and the resolution regarding statewide indefinite strike was unanimously approved.
Shri Vishwas Katkar, Convener of the (Convener) Coordination Committee announced that as the Central Organisation is leading the Coordination Committee we are announcing today that, in order to urge the State Government to take a speedy decision on the priority demand of applying old pension to all and other pending demands, all the staff and teachers from all over the state will go on an indefinite strike from Tuesday 14th March 2023 as they have no other choice.
(Signed)
(Vishwas Katkar)
Convener,
Sarkari – Nimsarkari Karmachari – Shikshak Sanghatana Samanvay Samiti, Maharashtra