Report by Kamgar Ekta Committee (KEC) correspondent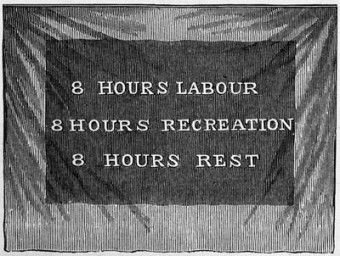 On 21 April 2023, the Tamil Nadu assembly passed a bill amending the Factories Act (1948). The Tamil Nadu government was emboldened by the Karnataka government which had on 24 February, passed a similar amendment to the Factories Act of 1948, named the Factories (Karnataka Amendment) Bill, 2023.
The amended laws will allow factory owners to increase the working hours of workers from 8 hours to 12 hours without any overtime payment. Factory owners will be able to make workers work more hours of overtime, up to 145 hours over a three-month period, as compared to the earlier maximum of 75 hours. They will also enable factory owners to force women to work in night shifts.
All these aspects are like music to the ears of capitalists. That is why all of them are praising these amendments calling them as "economic growth-oriented steps"! They of course hasten to call them as "steps which will increase employment opportunities, and steps which will help women workers to unleash their potential".
But, workers are not fools. They know that all these amendments will only lead to enhanced super exploitation of working people. That is why Tamil Nadu workers are angrily denouncing the amendments.
Immediately after 21 April, various trade unions announced a series of protest actions against these amendments all across Tamil Nadu. They also announced a state wide workers' strike on 12th May if the state government did not cancel the amendment. Representatives of nine trade unions including AITUC, CITU, HMS, INTUC, AIUTUC, AICCTU, Working People's Council, MLF and LLF issued a joint statement announcing that all unions of workers, both in the private sector and public sector, would participate in the agitation. Hundreds of garment workers and domestic workers under the banner of the Women Workers' Union participated in a militant protest in the famous May Day Park in the heart of Chennai city.
This angry and united opposition by both private sector and public sector workers put a lot of pressure on various political parties, as a result of which, numerous political parties and organisations in the state also appealed to the Chief Minister in a joint memorandum, to withdraw the amendment. Finally on 24th April, the Chief Minister of Tamil Nadu was forced to announce his government's decision to put on hold the implementation of the amendment to the Factories Act (1948).
All over the country workers are opposing the Central government's attempts to forcibly put in place the four Labour Codes. This has forced the Central government to postpone the date of their implementation. However various state governments are amending various laws in order to promote interests of corporates. Developments in Tamil Nadu and Karnataka should be viewed on this background.
Indian capitalists are keen to grab every opportunity to emerge as an alternate supply chain to China. They need the backing of international big capital to divert, especially their manufacturing base, from China to India. Both Indian and international capitalists are putting pressure on the Central government and various state governments of India, to create a "business friendly environment". One important component of such an environment is amendments to the Labour Laws, Factories Act etc. which would enable the capitalists to super exploit the labour. Both the Karnataka and Tamil Nadu amendments of the Factories Act fulfil this demand.
The joint statement issued by unions of private and public sector workers recalled the history of the struggle of workers to establish their right to an 8-hour working day. It reminded the workers that the 8-hour limit to the working day was implemented in 1936 in Puducherry and in 1947 across the country which was won by our forefathers who sacrificed their lives and blood for the cause. The statement called upon all the working people to defend this very important hard won right.
While the militant opposition by workers in Tamil Nadu has succeeded in forcing the government to put a hold on implementing the anti-worker amendments, the fact remains that the Amendment has not been withdrawn.
Don't we workers know from our experience that various governments take a step back when they experience a determined united opposition from working people, and wait for an opportune moment to push their agenda? So, workers will have to be vigilant. The stay on the amendment in no way means that the government has changed its aim, which remains that of enabling the Indian and foreign capitalists to make bigger profits out of increased exploitation of the workers.
We workers should use this period as a breather, to further strengthen our unity across sectors. It is a very good development that public sector workers joined hands with private sector workers, though the amendments do not adversely affect them immediately. We workers cannot forget that, opposition to attacks on labour rights in the form of such labour law amendments and opposition to privatisation of public sector enterprises are part of the same struggle, our struggle against increased exploitation of working people.
We have to strengthen our unity, putting aside differences of political and trade union affiliation, and step up the struggle in defence of our rights.